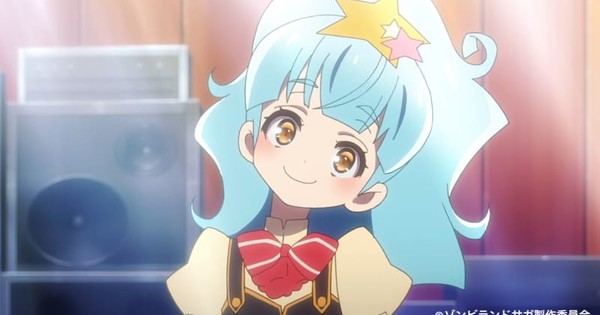 Zombie Land Saga writer and producer explains how Lily became a gender subversive idol – Interest
"After something as absurd as becoming zombies, not everyone is confused by other things and easily accepts any differences that each might have."
Zombie Land Saga author of series composition Shigeru Murakoshi and producer Nobuhiro Takenaka spoke about the anime's subversive qualities in a recently posted interview with Mipon. The "Zombie Idol" series was designed to "shake up" the common sense of idol anime while remaining true to the passion of real life idols.
One character the two discuss in detail is Lily, who represents one of the many atypical idols in the show's cast. Takenaka said she was not an easy character to write, mentioning the need to be "careful and considerate" in dealing with gender issues. The team spent a lot of time thinking about their character and making sure there was "an appropriate balance between comedic and serious scenes." Due to concerns over whether the message would get across to viewers, many of its lines were rewritten during recording sessions. He said he particularly liked the line "I'm not Masao!" I am Lily!
Murakoshi pointed out that Lily's gender doesn't matter to other Franchouchou members. "Whether it's someone like Tae or Lily, who was born a boy, none of that matters to the members. Of course, everyone has their unique history and personality, but then there's one thing too. absurd that becoming zombies, everyone is unfazed by other things and easily accepts any differences the other might have. They see beyond everything and don't make a big deal out of it. "
Takenaka also mentioned that in addition to the issue of sex, Lily passed away at a very young age, and that this was also an issue to be approached with sensitivity. "But we wanted to make her a very strong person who stays positive no matter what and who lives life to the fullest… well, living off zombies is a bit of a stretch, but you know what I mean."
The two also discussed the challenges of writing Yugiri's character. The team pushed back Yugiri's story entirely in the first season, as they struggled to convey the "content and mood" of her past. On the other hand, it allowed them to take their time in season 2 and devote two episodes to the development of his character. The two further mentioned that his model speeches as a courtesan were difficult to write, with Murakoshi claiming that it took him longer to write it because his lines would have to be written in standard Japanese before converting them to a courtesan speech.
Regarding the writing of the characters in general, both mentioned that the personalities of the characters were defined long before the writing phase of the script, and that they did not change much during the process. The only major exception was Sakura: they decided to change her personality to be "more motivated and energetic" after interviewing real-life idols for research. Murakoshi said the decision to give her a flashback scene was made halfway through the process and was initially expected to have "a slightly different story arc."
"It took a while, and there was some trial and error at the beginning, but in the end I think we managed to create a compelling character," Takenaka said.
The full interview explains how the project was lighted, how the vocal cast was put together, and other production details.
Image credit: ©??©リ ベ ン ジ??
Source: Mipon