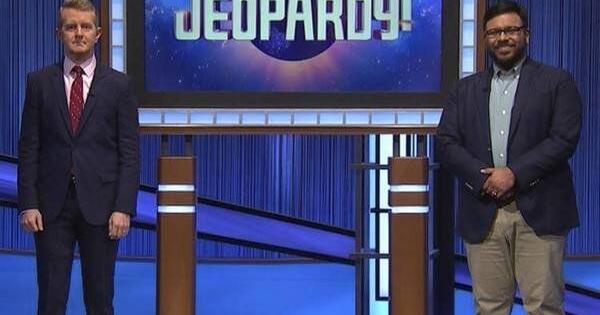 Thinking about danger | Local News
Stephen Chanderbhan and his wife Rita have always been passionate about "Jeopardy!" passionate.
It didn't make things any easier when he got the chance to take part in an episode that aired last Tuesday.
Chanderbhan, a philosophy professor at Canisius College, went up against current defending champion Amy Schneider. He got a few correct answers and at one point won up to $7,100 in prize money, but eventually fell to Schneider, one of the strongest players in quiz history.
"It ended as well as possible given the circumstances," Chanderbhan said Thursday. "She's an absolutely intense and incredible player."
Chanderbhan said he had already taken the test to appear on the show but was unsuccessful. Last July, the producers were looking for teachers so he started again. By August, he had passed all screenings and was admitted to the pool of applicants knowing he could be called up at any time over the next 12 months.
His time had come and he knew he would have to fly to Culver City, Calif. for the November 2 shoot. Five episodes are shot in one day. Candidates pay for their transportation and accommodation themselves.
Headed into the shoot, Chanderbhan wondered if he could face off against Jonathan Fisher, who had dethroned Matt Amodeo. Alas, Fisher was gone and Amy Schneider was there.
The producers and everyone involved have been kind to Chanderbhan. The buzzer, however, was not. Astute watchers of the show noticed that Chanderbhan struggled to report.
This was indeed the case. Lights visible to competitors indicate when to buzz. Buzz too soon and you're stuck for 0.25 seconds. The producers were nice about it but helped him on the first commercial break.
"I wouldn't change what I did," Chanderbhan said, "but I might have changed how often I honed that buzzer. I didn't play a lot of video games when I I was a kid. It wasn't something my parents enjoyed. It came back to bite me. If I happen to lose a quiz because of my motor skills, I'm good with it.
Chanderbhan has lived in Lewiston for about a year and has taught at Canisius since 2011. The Arlington, Virginia native was a student at St. Louis University pursuing his doctorate. when Eleonore Stump, a professor of medieval philosophy suggested that she approach Canisius and she would say a good word to him.
"She was a fantastic mentor, a world-class philosopher and an even better person, if that's possible," Chanderbhan said.
As with most competitors, Chanderbhan said there were certain categories he was more comfortable with.
"What really matters are the clues that happen that day," he explained. "Give me medieval literature or philosophy, geography or world capitals, I'm here."
The other thing is to think you can get attached and cram more information into your head is a mistake.
"Preparing is the right word," Chanderbhan said. "Studying is not. You cannot stuff yourself with knowledge.
As a professor of philosophy, Chanderbhan said one piece of recent pop culture he particularly enjoyed was the Netflix series "The Good Place" starring Ted Danson and littered with deep thought and symbolism. , particularly around the work of Soren Kierkegaard, a Dane widely regarded as the father of existentialism, the theory that we are all free as individuals and develop ourselves through acts of the will.
"It was a cool way to open up philosophy in a very accessible way," Chanderbhan said. "There are many streams of philosophy since everyone started thinking nonsense.
"We need to think critically about the background conditions of what we think, know, believe and view"
It also warns against confirmation bias, as we live in a time where the answer we all want is still easy to find if you search long and hard enough.
"Really, everyone has a philosophical point of view," Chanderbhan said. "The purpose of this course (introduction to philosophy) is to understand what you think. My job is to be a teacher, not a preacher.