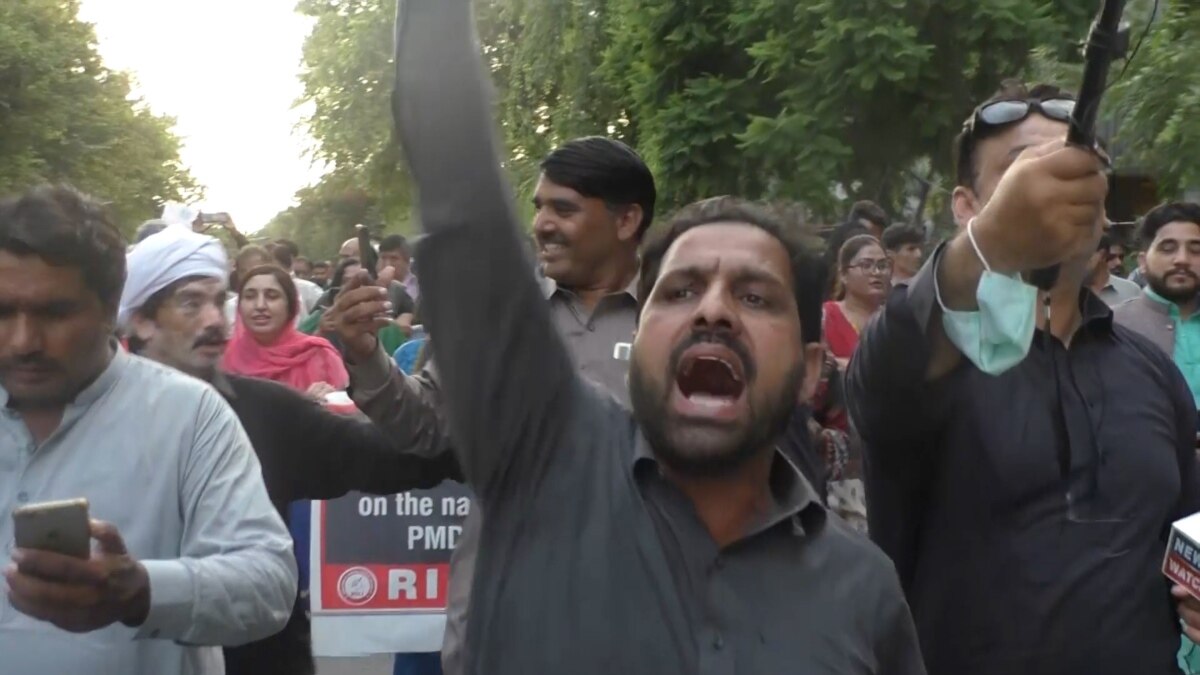 Pakistani journalists protest new media bill as yet another blow to freedoms
Journalists across Pakistan are expressing outrage at proposed regulations that they say will further curtail press freedom and significantly strengthen the powers of a government that is already seen as imposing censorship to control the media and freedom of expression.
The government's proposed Pakistan Media Development Authority (PMDA) would combine the functions of several federal and provincial agencies currently regulating print, electronic and digital media.
Journalists, however, argue that there are ulterior motives behind the proposal, first presented in May for the purported purpose of streamlining media regulation.
"If implemented, it will prove to be an open-air prison for journalists," said journalist and presenter Hamid Mir, who was banned in May from hosting his popular prime-time show, Capital Talk, on Pakistan's leading Urdu television channel Geo TV.
Mir, who survived five bullets fired by unidentified attackers in Karachi in April 2014, said he believed Pakistan would look like China and Iran with such media laws.
"We want to make it clear that there can be no discussions on the PDMA bill or even create another body or authority under another name," said a Sept. 16 statement by Shahzada Zulfiqar and Nasir. Zaidi, rulers of the Pakistan Federal. Union of Journalists.
"Single regulatory authority"
While the government now denies proposing the bill, authorities provided reporters with a PDF of the proposed regulations months ago. One of these copies, prepared in PowerPoint format and obtained by RFE / RL, includes a title page titled "Proposal on the proposed framework of the Pakistan Media Development Authority (PMDA)".
"[The aim of this framework] is to regulate electronic, print, digital and film media under a single regulatory authority, "the document said, adding that the new body would effectively amalgamate the current Pakistan Electronic Media Regulatory Authority (PEMRA), the Council of Pakistan Press (PCP), Central Board of Films Censors (CBFC), Press Registrar Office, Audit Bureau of Circulation (ABC) and Implementation Tribunal for Newspaper Employees (ITNE).
Journalists fear that the proposed law repeals a long list of existing laws regulating electronic media, motion pictures, press and news agencies, and newspapers.
Pakistan has around 150 TV channels, over 300 radio stations, around 3,000 print publications, 1,000 cable operators and various film production houses in addition to sprawling digital and social media platforms.
Journalists say it is virtually impossible to control all those under the same authority, especially in light of provincial regulatory layers.
Information Minister Fawad Chaudhry said neither his ministry nor the government had shared a bill with reporters, but several reporters who spoke to Radio Mashaal shared identical copies of what they said. said they had received from the government.
In addition to the licensing authority, the proposed body could investigate complaints against journalists and individual media. Its complaints committee could "receive, investigate, investigate and review complaints made by individuals or organizations against any aspect of news, analysis, print, broadcast, film and online platforms," ​​according to the PMDA framework. offers.
In addition to the main opposition parties, the Pakistan Human Rights Commission (HRCP) and representatives of lawyers and civil rights activists have also announced their support for the protesting journalists.
Prominent figures from the Muslim League of Pakistan, the Pakistan People's Party (PPP) and the opposition Pakistan Democratic Movement (PDM) alliance and other politicians visited the journalists' protest camp in front of the Parliament on September 13 and expressed their support for press freedom in the country.
"We wouldn't let this go through parliament," pledged Pakistani Muslim League chairman Shahbaz Sharif, who heads the opposition in the National Assembly, the lower house of Pakistan's parliament.
Pakistan's ruling party Tehrik-e Insaf (PTI) and its allies hold a slim majority in the 342-seat National Assembly and can easily pass the bill in the lower house, but the combined opposition majority in the Senate presents a greater challenge.
He might also face other obstacles even after his passage.
"We will challenge the bill in court if the government manages to get it passed by parliament," pledged Bhutto Zaradri, who is the parliamentary leader of the PPP in the National Assembly.
Mounting pressure
Pakistani media have come under increasing pressure since the PTI was declared the winner of the 2018 parliamentary elections and Imran Khan was sworn in as prime minister.
Dozens of prominent journalists resigned or were forced to quit their TV shows while hundreds more were dismissed by their newspapers, TV stations or radio stations in the name of financial constraints. Those who are still working have openly complained about self-censorship within their organizations.
A number of print journalists have frequently taken to social media to post articles which they believe were censored by the newspaper's management or editors.
Well-known TV faces such as Talat Hussain, Murtaza Solangi and Matiullah Jan have launched YouTube channels after their shows were suspended.
Najam Sethi, another Pakistani journalist known for his political predictions and insider scoops, started a YouTube show during months away from television before returning recently to his popular show on Channel 24 TV.
In July, the Paris-based media watchdog, Reporters Without Borders (RSF), put Prime Minister Khan on its list of the world's 37 worst press freedom leaders, citing beatings of journalists, jamming of television signals and threats to withdraw a crucial government. – funded advertising.
Pakistan angrily rejected RSF's assessment, saying the government believed in the independence of the media. In a statement, the Information Ministry called the report an attempt "to slander the elected representatives of the Pakistani people, without any corroborating evidence."
"Threatened, kidnapped, tortured"
In addition to being threatened with being cut off and kicked off the airwaves, journalists are also regularly kidnapped, threatened, beaten and even killed for their reporting, talk shows and comments on social media.
"Journalists crossing the red lines have been threatened, kidnapped and tortured," the report said.
Outspoken journalist Matiullah Jan was beaten and kidnapped outside a school in Islamabad in July 2020 before being released 12 hours later. Asad Ali Toor, TV journalist and blogger, was beaten inside his apartment in Islamabad by unidentified gunmen in May. A month earlier, senior journalist Absar Alam was shot dead outside his home in Islamabad.
The government has consistently promised investigations and action. However, no case has been successfully prosecuted.
In its report on World Press Freedom Day 2021, the media watchdog Freedom Network called Islamabad the "most dangerous place" to practice journalism. The report states that 34 percent of violations were recorded in Islamabad, including court cases, threats and detentions. Journalists are also threatened with being labeled as "anti-Pakistan", "an enemy agent" and "pro-India", and are sometimes even labeled with allegations of blasphemy.
The International Federation of Journalists (IFJ) ranks Pakistan as the fifth most dangerous country, citing 138 journalist deaths between 1990 and 2020.
Journalist Mir said the government's efforts to introduce the laws proposed through a presidential ordinance four months ago have been postponed after reporters objected to the decision.
"I myself criticized the laws proposed on my last show – right before my ban – but the ban was unrelated to that particular show on May 27," Mir said.
He says representatives of the Pakistan Broadcasters Association (PBA) subsequently shared details of the government's proposal with him. "The PBA shared the proposal with me and I raised the issue with [Information Minister] Chaudhry. But the minister told me they were just discussing this.
Chaudhry, Mir said, later told a standing parliamentary committee on information that the PMDA leader would be appointed by the government.
Journalists' unions say their main concerns are that a government candidate will head the committee, that the law would replace five separate bodies with a single entity, that authority will be centralized, that media courts will be established and whether a tribunal will be established. finds someone guilty of what the government claims is false news, the person could be jailed for three years. The potential fine for working journalists is up to 50 million rupees ($ 298,000) while for the owner of a TV or YouTube channel it is 250 million rupees.
Human Rights Watch (HRW) calls the media bill an attempt by Pakistani authorities to seek to control the media. In an August 23 article, Patricia Gossman, associate director of HRW's Asia division, wrote that "with journalists relentlessly attacked for doing their jobs, the Pakistani government must stop trying to control journalists and start protecting freedom of the media ".
Shakil Anjum, the president of the national press club, told Radio Mashaal that the government itself shared the bill with them but now refused to take ownership of the bill.
"With the introduction of this law, the government is trying to hide its weaknesses and to discourage and pressure journalists to criticize it," Anjum said. "What they are trying to bring in as a new law is unprecedented in Pakistan, and we would oppose it tooth and nail.
On September 16, the government appears to have backed down from the enactment of the PMDA bill. Government officials and representatives of the media industry have formed a joint committee to deal with the issue of "fake news", as all major media organizations and journalists' unions have continued to insist that new regulations would be unacceptable, according to Dawn, an English-speaking leader of the daily.