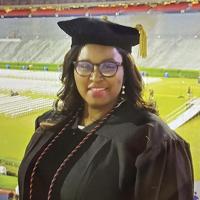 New Brockton native Brandi Howard graduated from Auburn with a doctorate in philosophy | Lifestyles
New Brockton High School alumnus Brandi Howard received her Doctor of Philosophy in Supervision and Program Administration from Auburn University on May 7, 2022.
Howard's dissertation was titled "Professional Learning Communities: An Examination of Traditional and 21st Century Facility Designs".
"I chose this topic because educators can no longer be isolated," Howard said. "To improve teaching and learning, educators need to share best practices with colleagues and sometimes model those practices to improve student learning."
She said that as an elementary educator, she can attest to the benefits of collaborating with her grade level team, special education teachers, interventionists, and more.
"My colleagues have helped me provide different learning opportunities for students at their current level and these practices have improved my students' understanding of the standards," Howard said.
Additionally, she said she was interested in building design because she taught in a traditional 21st century layout and modules.
"I wanted to look at the collaboration in these layouts and see if the school layout promotes teacher collaboration or is it the collaborative structures (when to meet, where to meet and physical and human resources)," said Howard said. "My study found that the collaborative structures that were in place facilitated meaningful discourse among educators."
She added that "teachers need other teachers as thought partners to deliver quality instruction to students for student success."
In a leadership role, Howard said she could better support her teachers with this doctorate.
"As a teacher, there's not much you can do," she said. "We see that changes need to be made to level the field of education. All students need equal access to education at the current level.
Howard has been an elementary school teacher for 11 years. Currently, she is Deputy Director in Ramstein, Germany for the education activity of the Ministry of Defence. She has been in Germany since September 2021.
Brandi is the daughter of Cal Howard of New Brockton.
"I plan to use my research to help educators identify best practices to improve teaching and learning for all students," she said.