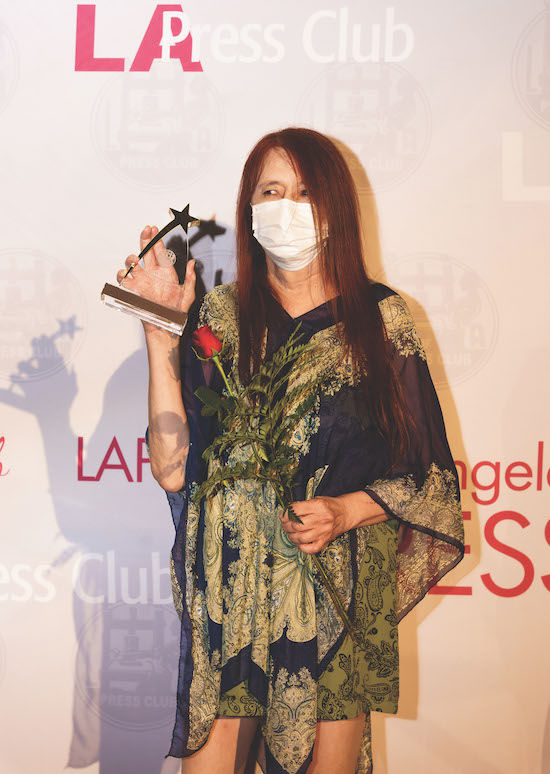 Los Angeles City College coach charged with restraining student journalist – University Times
A Los Angeles City College student reporter's conflict with her school's athletic director raised concerns about the First Amendment, and she informed a district Title IX representative, also alleging gender discrimination.
Beatrice Alcala, a photojournalist and one of the editors of Collegian, the school newspaper, said the dispute with Professor Robert McKinley began in early September.
"One day when I first started covering football, I was in the dressing room with the guys, trying to interview, taking pictures, and he kicked me out" , she said. She said McKinley explained that due to privacy concerns, women weren't allowed to shoot footage in men's locker rooms, and vice versa.
But she said she didn't think it was fair and learned of a federal judge's Sept. 25, 1978, ruling that the New York Yankees effectively couldn't ban female reporters from their locker rooms: benefit to their male peers and violated the equal protection clause of the 14th Amendment," according to a Huffington Post article on the case.
Alcala said what happened next – on September 17 – surprised her.
"I was sitting with the girls on the bench getting ready for their game and he came over," she said.
"Sporting Director Rob McKinley approached me and told me I couldn't be there because I was spreading COVID and we are in a pandemic," Alcala wrote in an email to a title rep. IX at the Los Angeles Community College District. "I am fully vaccinated and have a weekly COVID test report done at Citrus College. It's always negative. I asked myself, 'How could I spread COVID when I'm negative and masked?' Mr. McKinley never said anything to the other photographers on my team, Christian Chavez and Louis White.
She said she left the area without questioning him at the time but later, in the email to the Title IX representative, she noted that it was "humiliating": "I don't think that Mr. McKinley should treat me differently than male staff members or ordering me out of a public place at our college.
At the time, Alcala said she consulted Professor Rhonda Guess, who tried to help her.
In a phone interview with UT Community News, Guess expressed outrage at the way Alcala was treated. According to her, McKinley allowed a student to photograph and report the story instead after she expelled Alcala.
Guess recalls Alcala calling her and telling her that "a man had come up to her and told her she shouldn't be there."
"She was on the sidelines. She was reporting, you know, doing her job, and she said the man told her she shouldn't be there because she was spreading COVID and she didn't know it was a pandemic," Guess added.
Alcala said she tried to cover another game but continued to be harassed.
When Alcala told her, Guess said she told the student to come back to the press room. The LACC newspapers were freshly printed and awaiting distribution at the school docks. Guess said she and another photographer handed out the papers to fans in the stands. The coach then pulled Guess away to talk about Alcala.
"He said, 'I don't want her here'…He said, 'I don't like her,'" Guess said, noting that Alcala was with her. "He said to me, 'Why did you have to hide that the panel on the pitch wasn't working? Why did you put a picture of the dashboard in the newspaper? And why did you publish the picture of the Glendale College student who got injured on the field? Why did you post this?"
Guess stood there, looked at him, and just said, "Because it happened."
She said she explained that not everything published in a newspaper is positive.
"'You know, do you like everything you read in the LA Times?'" Guess remembers asking him. "You know, that's how they have to learn. Have you ever watched the Lakers postgame games? They have reporters there after the game, and he said, "So let them go work for the Lakers."
Guess said the conversation then turned to what might be a gender issue.
"I said, 'You know, this student has a right to be in the field, so what's wrong with her?'… Then he pointed to another photographer who was licensed to be in the field. A man, Louis White.
"Why can't your other reporters be more like Louis?" Guess recalled the coach's question. "I was like, 'The reason they can't be is because they're women and they're a man' – that's the first thing."
Experts say allowing a group to "choose" a journalist can lead to conflicts of interest and could diminish the freedom and independence of the press.
In early December, Alcala said she was still not allowed to appear on the pitch. Despite emails, Los Angeles City College and McKinley could not be reached for comment.
However, Alcala forwarded an email response from Genece Sarcedo-Magruder, the Dean and Regional Equity and Title IX Manager for the Los Angeles Community College District. In the post, Sarcedo-Magruder said the information provided by Alcala will be reviewed to see if it falls within the scope of his office and offered resources in the interim.