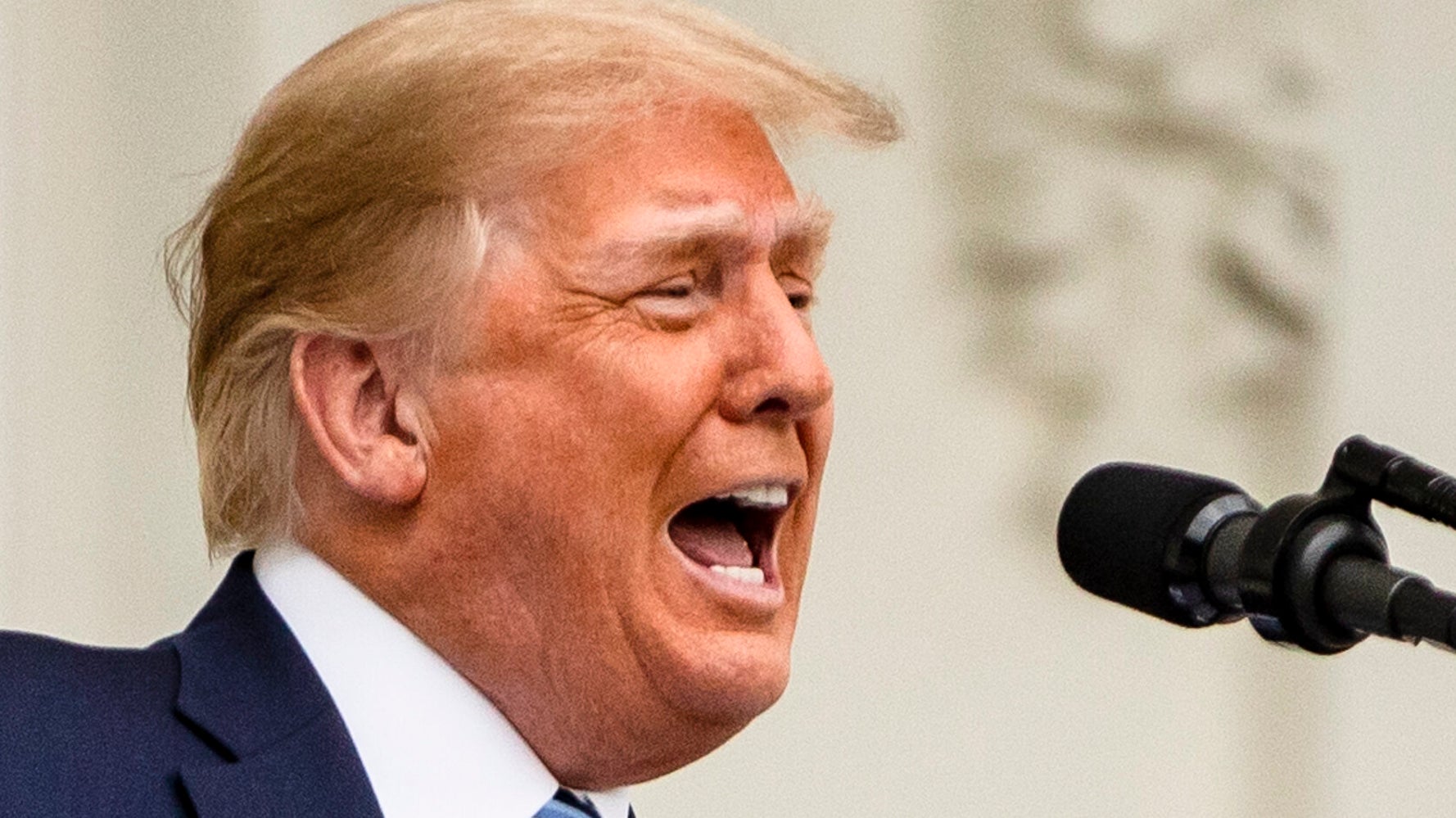 Journalist Reveals 'Scary' Text GOP Lawmaker Sent to White House Before Jan. 6 Riot
A Republican lawmaker and member of the ultra-conservative Freedom Caucus group who had intimate knowledge of former President Donald Trump's January 6 plans reportedly sent an alarming message to the White House in the days before the attack on the US Capitol.
"If POTUS allows this to happen … we are creating a stake in the heart of the federal republic," the anonymous lawmaker wrote to then-chief of staff Mark Meadows on Jan. 1 or 2, according to The Washington Post.
On Wednesday, Post reporter Carol Leonnig said on MSNBC that the "particularly disturbing" post raised serious questions.
"What exactly did this Freedom Caucus member mean by 'this'?" she asked in comments highlighted by Raw Story.
Leonnig said it was possible lawmakers wanted to pressure then-Vice President Mike Pence to block certification of the 2020 congressional election (which he ultimately refused to do).
"But what else could it be?" she asked. "How dark and chilling is this information, if this lawmaker knew something that Donald Trump was plotting beyond what we all know now?
See more in the clip posted by Raw Story:
","type":"video","meta":{"url":"https://www.youtube.com/watch?v=bhuv1_zif_k","type":"video","version":"1.0","title":"MSNBC 02 16 2022 23 11 11","author":"John Wright","author_url":"https://www.youtube.com/channel/UC-14ngy7T11qHY5cl1JNasQ","provider_name":"YouTube","thumbnail_url":"https://i.ytimg.com/vi/bhuv1_zif_k/maxresdefault.jpg","thumbnail_width":1280,"thumbnail_height":720,"cache_age":86400,"options":{"_start":{"label":"Start from","value":"","placeholder":"ex.: 11, 1m10s"},"_end":{"label":"End on","value":"","placeholder":"ex.: 11, 1m10s"},"_cc_load_policy":{"label":"Closed captions","value":false},"click_to_play":{"label":"Hold load & play until clicked","value":false}}},"fullBleed":false,"flags":[],"enhancements":{},"options":{"theme":"news","device":"desktop","editionInfo":{"id":"us","name":"U.S.","link":"https://www.huffpost.com","locale":"en_US"},"slideshowAd":{"scriptTags":[],"otherHtml":""},"slideshowEndCard":{"scriptTags":[{"attribs":{},"scriptBody":"rn (function(){rn var c = document.getElementById('taboola-endslate-thumbnails');rn c.id += '-' + Math.round(Math.random()*1e16);rn rn var taboolaParams = {rn loader: "//cdn.taboola.com/libtrc/aol-huffingtonpost/loader.js",rn mode: "thumbnails-b",rn container: c.id,rn placement: "Endslate Thumbnails",rn target_type: "mix"rn };rn rn if (typeof window.modulousQueue === "function") {rn twindow.modulousQueue.add(function(){ doTaboola(taboolaParams); });rn } else {rn tdoTaboola(taboolaParams);rn }rn }());rn"}],"otherHtml":""},"isMapi":false,"isAmp":false,"isVideoEntry":false,"isMt":false,"entryId":"620df692e4b0685128b1eeba","entryTagsList":"donald-trump,capitol-riot,freedom-caucus,carol-leonnig,","sectionSlug":"politics","deptSlug":"politics-news","sectionRedirectUrl":null,"subcategories":"media,us-news","isWide":false,"headerOverride":null,"noVideoAds":false,"disableFloat":false,"isNative":false,"commercialVideo":{"provider":"custom","site_and_category":"us.politics","package":null},"isHighline":false,"vidibleConfigValues":{"cid":"60afc111dcf87c2cd2f5d8bf","overrides":{"front_page_top_videos":{"desktop":"60b64354b171b7444beaff4d","mobileweb":"60b64354b171b7444beaff4d"},"top_media":{"desktop":"60b8e6bdc5449357a7ada147","mobile":"60b8e701c5449357a7ada2ee","iphone":"60b8e643cdd90620331bb1f6","ipad":"60b8e643cdd90620331bb1f6","androidphone":"60b8e699c5449357a7ada04c","androidtablet":"60b8e699c5449357a7ada04c"},"anthology":{"desktop":"60b8e616cdd90620331bb0ba","mobile":"60b8e671c5449357a7ad9f66","iphone":"60b8e643cdd90620331bb1f6","ipad":"60b8e643cdd90620331bb1f6","androidphone":"60b8e699c5449357a7ada04c","androidtablet":"60b8e699c5449357a7ada04c"},"content":{"desktop":"60b8e616cdd90620331bb0ba","mobile":"60b8e671c5449357a7ad9f66","iphone":"60b8e643cdd90620331bb1f6","ipad":"60b8e643cdd90620331bb1f6","androidphone":"60b8e699c5449357a7ada04c","androidtablet":"60b8e699c5449357a7ada04c"}},"playerUpdates":{"5668ae6ee4b0b5e26955d6a6":"60d2472d9340d7032ad7e443","56aa41bae4b091744c0440d8":"60e869dc7c5f3b17b6741b81","5841b2b5cc52c716ec6e5a7f":"60b8e355cdd90620331ba185","58b5e2b8d85a10302feee895":"60b64316b171b7444beafdb2","58b74698f78ced31417819ae":"60b8e5bec5449357a7ad9b52","58b74ccecebcea57e2c3a3d1":"60b8e5eac5449357a7ad9ca5","58cff690d85a100b9992bc39":"60b8e616cdd90620331bb0ba","58cffb3fb6d9b972a49a3c9d":"60b8e643cdd90620331bb1f6","58cffdd74d96935d7d6ec180":"60b8e671c5449357a7ad9f66","58d03a84f78ced6518eb2fa7":"60b643c82e76be41f112735c","592edf20e0fa177b0c26f7fd":"60b8e699c5449357a7ada04c","5b35266b158f855373e28256":"60b64354b171b7444beaff4d","5c116f29f79c4171d82b7c2a":"60b64440b171b7444beb040b","5c1170fc600c9a697bf0c6b9":"60b646102e76be41f1127ffc","5c47791afa1b317df8ae0c4f":"60b8e6bdc5449357a7ada147","5c477987a6b48b35f164773d":"60b8e701c5449357a7ada2ee","5c4779ee943c3c2a64f28371":"60b8e747cdd90620331bb861","5c477a26fcd67b26879bc7c2":"60b8e788c5449357a7ada67b","5d8921a78c3ae845f366c9b6":"60ae7be5f3a7c13a30417ff9","58b98b00ba82aa39a6534321":"60d0de7c9340d7032ad1146c","58b9d14cb6d9b96c9ec32af3":"60d0dec19340d7032ad115a0","58cff8eccebcea42931e0436":"60d0e005b627221e9d819d44","592edf5de0fa177b0c26f95b":"60d0e38fb627221e9d81adcf","58cff72fd85a100b9992c112":"60d0e447b627221e9d81b0da","56b4d34fe4b022697697c400":"60d2472d9340d7032ad7e443","60b8e4c0c5449357a7ad957d":"60e869dc7c5f3b17b6741b81"}},"connatixConfigValues":{"videoPagePlayer":"f010447b-d244-4111-a314-7b4542ae4145"},"customAmpComponents":[],"ampAssetsUrl":"https://amp.assets.huffpost.com","videoTraits":null,"positionInUnitCounts":{"buzz_head":{"count":0},"buzz_body":{"count":0},"buzz_bottom":{"count":0}},"connatixCountsHelper":{"count":1},"buzzfeedTracking":{"context_page_id":"620df692e4b0685128b1eeba","context_page_type":"buzz","destination":"huffpost","mode":"desktop","page_edition":"en-us"},"cetUnit":"buzz_body"}}">
Jaqueline Alemany, lead author of the Washington Post texting article, also discussed the results with MSNBC's Alex Wagner:
","type":"video","meta":{"url":"https://www.youtube.com/watch?v=ZfhjxwM9sms","type":"video","version":"1.0","title":"Frantic January 6 Texts To Mark Meadows Only A 'Sliver' Of Investigation's Evidence","author":"MSNBC","author_url":"https://www.youtube.com/channel/UCaXkIU1QidjPwiAYu6GcHjg","provider_name":"YouTube","description":"Jaqueline Alemany, congressional correspondent for the Washington Post, talks about the vivid narrative of January 6th told in text messages to Mark Meadows from Donald Trump's inner circle, including a collection of Fox News hosts, and the likelihood that the January 6th Committee has even more explosive evidence that it is withholding from the media until its final public presentation.n» Subscribe to MSNBC: http://on.msnbc.com/SubscribeTomsnbcnnAbout: MSNBC is the premier destination for in-depth analysis of daily headlines, insightful political commentary and informed perspectives. Reaching more than 95 million households worldwide, MSNBC offers a full schedule of live news coverage, political opinions and award-winning documentary programming -- 24 hours a day, 7 days a week.nnConnect with MSNBC OnlinenVisit msnbc.com: http://on.msnbc.com/ReadmsnbcnSubscribe to MSNBC Newsletter: MSNBC.com/NewslettersYouTubenFind MSNBC on Facebook: http://on.msnbc.com/LikemsnbcnFollow MSNBC on Twitter: http://on.msnbc.com/FollowmsnbcnFollow MSNBC on Instagram: http://on.msnbc.com/Instamsnbcnn#MSNBC #January6 #MarkMeadows","thumbnail_url":"https://i.ytimg.com/vi/ZfhjxwM9sms/maxresdefault.jpg","thumbnail_width":1280,"thumbnail_height":720,"cache_age":86400,"options":{"_start":{"label":"Start from","value":"","placeholder":"ex.: 11, 1m10s"},"_end":{"label":"End on","value":"","placeholder":"ex.: 11, 1m10s"},"_cc_load_policy":{"label":"Closed captions","value":false},"click_to_play":{"label":"Hold load & play until clicked","value":false}}},"fullBleed":false,"flags":[],"enhancements":{},"options":{"theme":"news","device":"desktop","editionInfo":{"id":"us","name":"U.S.","link":"https://www.huffpost.com","locale":"en_US"},"slideshowAd":{"scriptTags":[],"otherHtml":""},"slideshowEndCard":{"scriptTags":[{"attribs":{},"scriptBody":"rn (function(){rn var c = document.getElementById('taboola-endslate-thumbnails');rn c.id += '-' + Math.round(Math.random()*1e16);rn rn var taboolaParams = {rn loader: "//cdn.taboola.com/libtrc/aol-huffingtonpost/loader.js",rn mode: "thumbnails-b",rn container: c.id,rn placement: "Endslate Thumbnails",rn target_type: "mix"rn };rn rn if (typeof window.modulousQueue === "function") {rn twindow.modulousQueue.add(function(){ doTaboola(taboolaParams); });rn } else {rn tdoTaboola(taboolaParams);rn }rn }());rn"}],"otherHtml":""},"isMapi":false,"isAmp":false,"isVideoEntry":false,"isMt":false,"entryId":"620df692e4b0685128b1eeba","entryTagsList":"donald-trump,capitol-riot,freedom-caucus,carol-leonnig,","sectionSlug":"politics","deptSlug":"politics-news","sectionRedirectUrl":null,"subcategories":"media,us-news","isWide":false,"headerOverride":null,"noVideoAds":false,"disableFloat":false,"isNative":false,"commercialVideo":{"provider":"custom","site_and_category":"us.politics","package":null},"isHighline":false,"vidibleConfigValues":{"cid":"60afc111dcf87c2cd2f5d8bf","overrides":{"front_page_top_videos":{"desktop":"60b64354b171b7444beaff4d","mobileweb":"60b64354b171b7444beaff4d"},"top_media":{"desktop":"60b8e6bdc5449357a7ada147","mobile":"60b8e701c5449357a7ada2ee","iphone":"60b8e643cdd90620331bb1f6","ipad":"60b8e643cdd90620331bb1f6","androidphone":"60b8e699c5449357a7ada04c","androidtablet":"60b8e699c5449357a7ada04c"},"anthology":{"desktop":"60b8e616cdd90620331bb0ba","mobile":"60b8e671c5449357a7ad9f66","iphone":"60b8e643cdd90620331bb1f6","ipad":"60b8e643cdd90620331bb1f6","androidphone":"60b8e699c5449357a7ada04c","androidtablet":"60b8e699c5449357a7ada04c"},"content":{"desktop":"60b8e616cdd90620331bb0ba","mobile":"60b8e671c5449357a7ad9f66","iphone":"60b8e643cdd90620331bb1f6","ipad":"60b8e643cdd90620331bb1f6","androidphone":"60b8e699c5449357a7ada04c","androidtablet":"60b8e699c5449357a7ada04c"}},"playerUpdates":{"5668ae6ee4b0b5e26955d6a6":"60d2472d9340d7032ad7e443","56aa41bae4b091744c0440d8":"60e869dc7c5f3b17b6741b81","5841b2b5cc52c716ec6e5a7f":"60b8e355cdd90620331ba185","58b5e2b8d85a10302feee895":"60b64316b171b7444beafdb2","58b74698f78ced31417819ae":"60b8e5bec5449357a7ad9b52","58b74ccecebcea57e2c3a3d1":"60b8e5eac5449357a7ad9ca5","58cff690d85a100b9992bc39":"60b8e616cdd90620331bb0ba","58cffb3fb6d9b972a49a3c9d":"60b8e643cdd90620331bb1f6","58cffdd74d96935d7d6ec180":"60b8e671c5449357a7ad9f66","58d03a84f78ced6518eb2fa7":"60b643c82e76be41f112735c","592edf20e0fa177b0c26f7fd":"60b8e699c5449357a7ada04c","5b35266b158f855373e28256":"60b64354b171b7444beaff4d","5c116f29f79c4171d82b7c2a":"60b64440b171b7444beb040b","5c1170fc600c9a697bf0c6b9":"60b646102e76be41f1127ffc","5c47791afa1b317df8ae0c4f":"60b8e6bdc5449357a7ada147","5c477987a6b48b35f164773d":"60b8e701c5449357a7ada2ee","5c4779ee943c3c2a64f28371":"60b8e747cdd90620331bb861","5c477a26fcd67b26879bc7c2":"60b8e788c5449357a7ada67b","5d8921a78c3ae845f366c9b6":"60ae7be5f3a7c13a30417ff9","58b98b00ba82aa39a6534321":"60d0de7c9340d7032ad1146c","58b9d14cb6d9b96c9ec32af3":"60d0dec19340d7032ad115a0","58cff8eccebcea42931e0436":"60d0e005b627221e9d819d44","592edf5de0fa177b0c26f95b":"60d0e38fb627221e9d81adcf","58cff72fd85a100b9992c112":"60d0e447b627221e9d81b0da","56b4d34fe4b022697697c400":"60d2472d9340d7032ad7e443","60b8e4c0c5449357a7ad957d":"60e869dc7c5f3b17b6741b81"}},"connatixConfigValues":{"videoPagePlayer":"f010447b-d244-4111-a314-7b4542ae4145"},"customAmpComponents":[],"ampAssetsUrl":"https://amp.assets.huffpost.com","videoTraits":null,"positionInUnitCounts":{"buzz_head":{"count":0},"buzz_body":{"count":0},"buzz_bottom":{"count":0}},"connatixCountsHelper":{"count":1},"buzzfeedTracking":{"context_page_id":"620df692e4b0685128b1eeba","context_page_type":"buzz","destination":"huffpost","mode":"desktop","page_edition":"en-us"},"cetUnit":"buzz_body"}}">