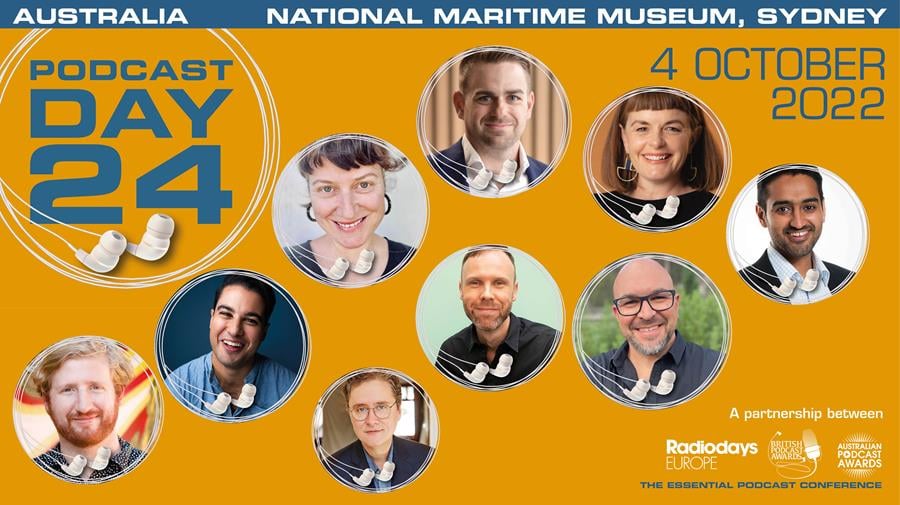 Half-price tickets for radioinfo readers available for Tuesday in Sydney
The international Podcast Day 24 event tour kicks off in Sydney this Tuesday.
There are still a few seats available in Sydney at the Maritime Museum in Darling Harbor for just $220 AUD.
Here is just a selection of the wonderful speakers who will be participating…
Tony and Ryan (Ryan Jon Dunn and Toni Lodge), Tuning TothillExecutive Head of Podcasting, LiSTNR (Podcast Company of the Year '22 Radio Today Podcast Awards for the second consecutive year), Siobhan McHughConsulting Producer, The Biggest Threat, Meshel Laurie, Australian True Crime, Eve Ash, Who Killed Bob?, James CridlandFounder & Publisher, Podnews, Marc FennellIt Burns (Audible), Nut Jobs (Audible) and the hit ABC/CBC podcast Stuff the British Stole, Scott Stephens ABC's Religion & Ethics Editor and co-host, with Walid Alyfrom The Minefield on ABC Radio National. Chris JohnsonSCA, Sasha Kelly (Head of Production) of Equity Mates, Visit the Inner West with Jane Curtis, Richard Palmer from Triton Digital examines some podcast data, Conversations with Conversations Richard Fidler and a co-presenter Sarah Kanowskias well as the podcast industry's top influencers, creators, and platform hosts Corey LaytonHead of Digital Audio, ARN's iHeartPodcast Network Australia and Henrik Isaksson, Managing Director, Acast Australia and New Zealand. And, from the ABC, Alex Bilbie Clarke (Product Manager) and Scott Sparkle (Head of Content Discovery and Strategy) plus Non-Traditional Philosopher Matt Beard from the Short & Curly podcast join this fantastic line-up.
Venue: Australian National Maritime Museum Lighthouse Gallery. Find it in Darling Harbour, next to Pyrmont Bridge, close to Sydney's CBD. Get there by train, tram, bus or ferry.
Doors open at 8 a.m. October 4 for registration, and the event runs from 9:30 a.m. to 5:00 p.m. It is possible to register for this event on the day!
Discount for radio info readers. Use code: PODN1215 at checkout for a discounted price of $220 AUD.
Podcast Day 24 is a podcast event for those who work in podcasting, whether you are a producer, host, at a major media company or just starting out, there is something for you at this event. Discover the secrets behind some of Australia's biggest shows with some of the teams involved. Hear from the big names in the podcast world, how did they do it and where are they going next?
Podcast Day 24 also brings together facts, figures, audience data, and insights that can help you and your podcast target the right audiences, build a monetization strategy, and plan for your future success. Plus, we connect you with companies that can help you do more with your podcast.