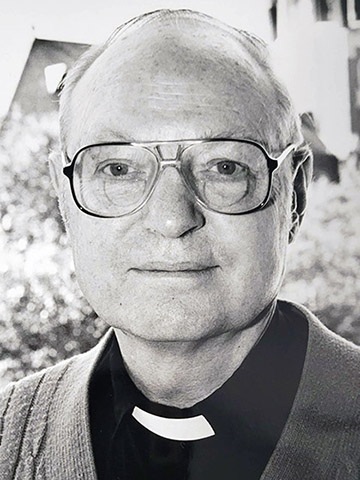 Garth L. Hallett SJ: 1927-2022: SLU
08/07/2022
Garth L. Hallett, SJ, professor emeritus and former dean of the College of Philosophy and Letters at Saint Louis University, died Friday, June 24, 2022. He was 94 years old.
Hallett was born in Chester, Pennsylvania on August 15, 1927. He grew up in Santa Barbara, California, and served in the United States Navy from 1945 to 1946. In September 1946, he joined the Jesuit novitiate at St. Charles College in Grand Coteau, Louisiana, where he made his first vows on September 8, 1948. He was ordained a priest on August 6, 1959 in Brussels.
He began his teaching career at the Jesuit High School in New Orleans in 1953. He also taught at Loyola University in New Orleans before leaving to earn his doctorate in philosophy at the Gregorian University in Rome. . He got his doctorate. in 1964 and taught at Spring Hill College, Gregorian University, University of Detroit, and was a visiting professor at Xavier University.
In 1985 Hallett joined the faculty of Saint Louis University. He served at SLU until 2009. He then took a gap year at Loyola University Chicago and Marquette University. He also taught at St. John's College in Belize. Upon retirement, he was writer-in-residence at Jesuit Hall in St. Louis.
At SLU, Hallett served as Dean of the College of Philosophy and Letters, assisting young Jesuits in their academic program.
"Father Hallett was a brilliant philosopher and an able administrator," said Randall S. Rosenberg, Ph.D., Dean of the College of Philosophy and Letters. "When I was in his presence, I felt a Jesuit with a clear purpose. He knew his calling, embraced it and lived it with sincere dedication. I distinctly remember him challenging seminarians and Jesuits in formation not just to regurgitate the ideas of others but to learn them and then to find their own voice. He challenged them to do the work of philosophical inquiry. He will be remembered for his scientific creativity, generous service to the University, and faithfulness as a Jesuit priest.
When Hallett began his teaching career at Spring Hill, Vatican II was still in session. It was then his responsibility to reshape the Jesuit student program to respond to the changes mandated by the 31st General Congregation of the Jesuits. It broadened the study of contemporary philosophers and emphasized careful reading of key texts.
As a philosopher, Fr. Hallett was a disciple of linguistic analysis. He was also a prolific writer. He has published 15 books, including A Middle Way to God (Oxford University Press, 2000), Identity and Mystery in Themes of Christian Faith (Ashgate, 2005) and Linguistic Philosophy: The Central Story (SUNY, 2008).
Hallett donated his body to science. A service took place on Wednesday, July 6.