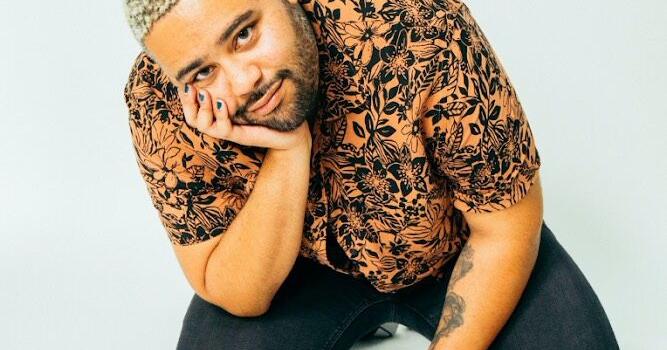 From paperboy to school newspaper editor to television writer, Des Moran continues to share his stories | West
WESTERLY — When Desmond Moran was a senior at Westerly High School in 2008, he and two classmates took third place in the annual Teen TV/Radio Commercial Challenge, a statewide video contest sponsored by Rhode. Island Department of Transportation, designed to help curb drinking and driving.
Earlier this month, Moran, now 32 and a Los Angeles-based TV writer-producer, found out his new TV series, "Halfsies," had been selected as a finalist for the upcoming Catalyst Story Institute festival. in Duluth, Minn.
"I haven't thought about this contest in years," Moran said with a hearty laugh as he recalled the high school video project. "I was with Liz Francese and Cam Nigrelli, and I think we won tickets to a Death Cab for Cutie concert."
Moran was on the phone from Denver Friday afternoon. He had just flown to Colorado from his home in Los Angeles to meet his boyfriend, he said, so they could travel across the country together.
"We're actually heading to Rhode Island," added Moran, who attended State Street School and Babcock Middle School before graduating from Westerly High in 2008.
"My very first job was delivering newspapers for The Westerly Sun," Moran added with another hearty laugh.
Moran, the only son of Carmelia Moran, a single mother who moved to Providence after Desmond left for college at Loyola Marymount University's School of Film and Television in Los Angeles, was also editor-in-chief of the Barker, Westerly Highschool. student newspaper.
"I rose through the ranks after being a writer," said Moran, who went on to praise his time at Westerly Schools.
"My third-grade teacher, Linda Piscatelli, was my favorite teacher," he said, "and I loved Anne Barnhart, my high school English teacher. She opened my eyes to a life outside of our little Rhode Island bubble and exposed me to so much great literature."
"And Ryan Zemanek and Mr. Bonner," he added. "I think I took every film and video production class I could."
Moran said her love of television started "at a very young age" and with her mother.
"That's what we did together," he said. "We would sit together and watch TV… all the old sitcoms. 'I Love Lucy', 'The Jeffersons'… I loved TV."
Moran said that after graduating from Loyola, where he majored in film and television production, he began to work his way into the television industry.
"I broke into television in 2017 with 'Good Girls,'" he said.
"I love making and creating stories for television," said Moran, who served as producer of Peacock's 'Queer as Folk' and writer of Freeform's hit comedy 'Grown-ish' – a spinoff of "Black-ish" – and on seasons one and two of NBC/Netflix's "Good Girls."
He is also supervising producer on Hulu's upcoming reimagining and adaptation of Cheryl Strayed's national bestseller, "Tiny Beautiful Things," which will star Kathryn Hahn and is produced by Laura Dern and Reese Witherspoon.
"We are filming," Moran said. "I was on set yesterday."
After two years as a writer on "Grown-ish," Moran said, he was cast in a small role, which he enjoyed.
"It combines my two loves," added Moran, who was involved in theater productions while at Westerly High School.
He has a role in his new show, "Halfsies," which tells the story of six black half-siblings each struggling to define themselves as they reenter each other's lives after the death of their older brother.
The brothers include Caleb (played by Moran) who endures racism in the gay community; Theo, a recovering drug addict (played by Galen J. Williams), who is trying to find a new path in life; Born-again Silas (played by Devere Rogers), who struggles with sinful temptation; parolee Anton (Jerah Milligan), who scrambles to support his family; and dad-to-be Tarik (Wade Allain-Marcus), who is determined to be a better dad than the one they all share.
"As the brothers try to connect for the first time in their lives, they will discover that their issues, fears and dreams make them more of a family than blood ever could," reads a statement on the series.
"In a time of uncertainty for our industry, this year's storytelling crop reflects the ingenuity, resilience and impressive creativity required to create and share content in today's rapidly changing entertainment landscape." , said Philip Gilpin Jr., Executive Director of Catalyst, "These are stories that need to be told by creators who deserve the industry's attention, and we are thrilled to give them a platform at this year's festival. "
Although Moran will be traveling and unable to attend the festival, he congratulated the organizers and said he was delighted with the positive attention the project has received.
Before being selected for the Catalyst Story Institute's showcase and festival, "Halfsies" was accepted into Outfest, a Los Angeles festival created to give visibility to diverse LGBTQIA+ stories and empower storytellers.
The Catalyst Institute is a non-profit organization that helps creators advance their careers and find outlets for their content at the festival, held annually in Duluth.
"Catalyst helps up-and-coming talent develop content for television, connect with industry leaders, and kick-start their careers," Rasky Partners' Erin McGarvey said in a statement about Moran and "Halfsies," adding that the festival receives approximately 1,000 project submissions. every year.
"Des is one of the few creators whose work will be featured," McGarvey added. "Less than 10% of all submissions make it to the festival, which attracts agents, producers, directors and other TV industry executives looking for new talent and new shows."
"It's really exciting," said Moran, who can now claim the title of co-executive producer.
Moran said he was working on a few new projects but was hesitant to share too much information.
"Can I just say that I have a television and feature film project at various stages?" He asked.