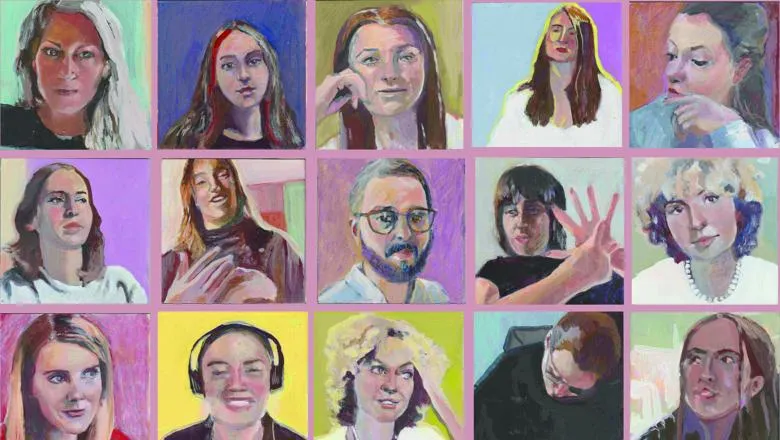 First Brush with Philosophy by Center for Philosophy and Art
A unique introduction to philosophy, in which the participants' experience is captured by portrait artists.
A First Brush with Philosophy is a series of sessions that bring together philosophy and the visual arts, giving participants the opportunity to have a discussion with a philosopher while being sketched by a portrait painter. Sessions take place at The Arcade at Bush House at King's from October 12-17, 2022.
This interdisciplinary project is organized by the Center for Philosophy and Art, a major multidisciplinary initiative based at King's Faculty of Arts and Humanities, with the aim of bringing together scholars, artists, curators and gallerists to explore the links between philosophy, theory and the visual arts. King's students and the wider King's community are invited to register and enjoy a 15-minute discussion with an expert philosopher exploring big questions such as:
Is it right to save your friend rather than a stranger?
If morality is impartial and love is essentially biased, then is love immoral?
If you are aware that you are dreaming, are you really awake?
During the discussions, a portrait artist will capture participants' "eureka" moments, and participants can keep the portraits as keepsakes of their particular intimate experiences.
Philosophy is truly a social enterprise. It was therefore particularly heartbreaking to miss face-to-face seminars during the pandemic, because these in-person group discussions are such a productive way to learn. While zoom isn't the ideal way to talk to anyone, it's proven to be the perfect way to start A First Brush with Philosophy. And we are delighted to now, for the first time, be able to play the game face-to-face with the support of King's Culture.– Vanessa Brassey, Co-Director of the Center for Philosophy and Art, King's College London
A First Brush with Philosophy was created by Dr. Vanessa Brassey, co-director of the Center for Philosophy and Art, while researching and writing her doctorate between 2015 and 2019. Struggling to make sense of a multitude of technical information and wanting to slow down and really pay attention to important conversations, Vanessa began painting portraits of her key colleagues, mentors and supervisors. This was followed by a new iteration of the program during lockdown where portrait sessions took place online on Zoom.
A First Brush with Philosophy' offers a rare and delightful introduction to ethical dilemmas and philosophical debate in just 15 minutes. Involving a portrait painter in this way captures the fleeting expressions of the participants and brings texture to the attention and curiosity required in these dialogues. – Beatrice Pembroke, Executive Director, Culture, King's College London
These sessions are developed in collaboration between the Department of Philosophy, the Center for Philosophy and the Arts and King's Culture. The Center for Philosophy and Art is an interdisciplinary center based in King's, appreciating and promoting art through a philosophical lens. It develops collaborations between philosophers, artists and curators. King's Culture collaborates with students, staff, alumni, artists and partners to address contemporary challenges with imagination and expertise for social and cultural impact.
Watch the "A First Brush with Philosophy" trailer below.
/Public release. This material from the original organization/authors may be ad hoc in nature, edited for clarity, style and length. The views and opinions expressed are those of the author or authors.View Full
here
.