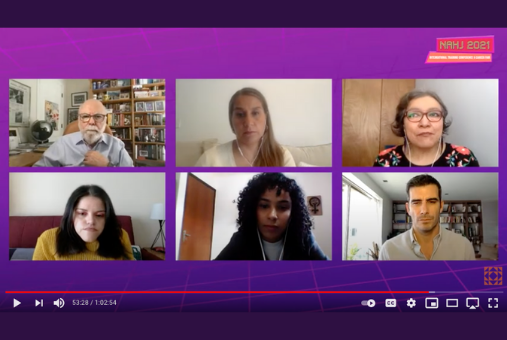 Diversity in journalism and newsrooms can be a factor for social transformation, say authors of new ebook "Diversity in Latin American Journalism"
Journalism can be a key factor in eradicating deep-rooted issues in Latin America such as discrimination, racism, violence and polarization, but for this, journalists must integrate a perspective of diversity and inclusion, both in their stories and in their writing.
These are the takeaways of Andrea Medina, María Teresa Juárez, Jamile Santana and Eladio González, several of the authors of articles in the ebook in Spanish, "Diversity in Latin American journalism", which was launched virtually on Saturday, July 17, 2021, at the annual conference of the National Association of Hispanic Journalists (NAHJ).
The presentation was moderated by Professor Rosental Alves, director of the Knight Center for Journalism in the Americas at the University of Texas at Austin, and included an introduction by Mexican journalist Mariana Alvarado, who served as editor of the ebook.
Adopting a diverse and inclusive perspective in the coverage and dynamics of newsrooms would contribute to a much more democratic dialogue in society, according to María Teresa Juárez, Mexican journalist and screenwriter, columnist for digital media Pie de Página and member of the council of 'administration. of the organization Periodistas de a Pie.
"Journalism can be a factor of social transformation because we have language in our hands which is the tool that can open doors and culturally transform," said Juárez, who wrote the article "Journalism and the anti-racist agenda: weaving other stories ".
The journalist explained how, in recent years, academic and statistical studies have shown that in Mexico, skin tone directly influences people's access to better opportunities. Journalism is challenged, she said, to take these findings into account to help stop perpetuating these ideas of superiority based on skin tone.
"We continue to see that in the newsroom the term 'race' is used as a generic term to refer to the different ethnolinguistic diversities in the world," she said. "Races do not exist, but racism does exist and what better than journalism, which is the vehicle of mass communication through words, images and sounds, to change those narratives that have prevailed not only in Mexico, but in Latin America. "
The media also have great power to help break down stereotypes that affect various sectors of society, said Andrea Medina, who wrote the article "The role of the media in the paradigm shift on disability".
The Chilean journalist wrote in her text on everything a communicator needs to know to cover the news of people with disabilities and how to change the approach to well-being and pity to focus on promoting rights. of this population.
Medina, who has been stereotyped for a disability, urged her colleagues to educate themselves and stop perpetuating stereotypes in the media, as well as to listen directly to people with disabilities to promote their inclusion in society.
"It is important that our voice is heard, not the voice of the family member or those who care for us, because who better to give an opinion on what is happening to us?" she said. "This is another message that I want to convey to you in this article: that in addition to generating news from a rights perspective, listening to people with disabilities, including them, generating inclusion. Disability is not given by individual health conditions, but by social barriers.
Another sector that suffers from the perpetuation of stereotypes is the LGBT + community. The journalistic coverage this group commonly receives in Latin American countries stems from approaches to violence, discrimination and homophobia. However, in 2019, Mexican magazine Expansión helped change that narrative.
The business-focused publication launched the first list of business executives who had "come out of the closet" in Mexico, which helped to understand the importance of inclusion in business, according to Eladio González , who wrote about the project in the article "The Year Expansión Put LGBT + Inclusion on the Mexican Business Agenda."
"It has been a very interesting exercise. In the first year we could barely reach 40 (executives on the list) and this year the number of applicants we had exceeded 200, "said González, editor-in-chief of Expansión. "It has become a reputation issue for companies and a commitment issue for these executives themselves, who believe that with their visibility, they can ensure that the issue of inclusion and diversity is already on the corporate discussion table.
Brazilian journalist Jamile Santana was in charge of the article "Yes, it is possible to measure the construction of diversity and its impact on editorial staff", in which she mentioned the diversity program promoted by the Enois Journalism Laboratory, where she works as a head of journalism. .
The program, developed in 2020, selected 10 journalists who were placed in 10 editorial offices with different profiles and in different regions of Brazil in order to build changes that would make each media more representative in its production of journalistic content, in its culture and in its management.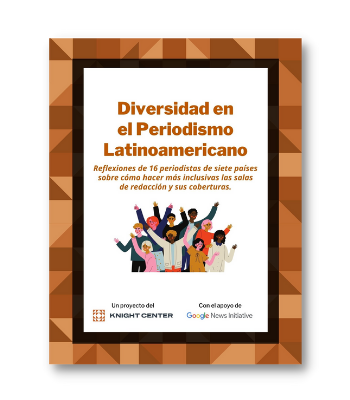 "We share tools so newsrooms can promote diversity in different ways," Santana said. "Since there is a lot of complexity in promoting diversity, we have developed a methodology to monitor the development of the newsroom. It is possible to know which areas deserve more attention so that diversity becomes part of the daily newspaper of the editorial staff.
The organization has developed eight steps to achieve diversity in newsrooms of all sizes and created a toolkit to promote diversity on a daily basis in the team and for it to have an impact on audiences and therefore on staff. sustainability of the medium.
"We know that our experiences as blacks, women, trans people have a great impact on the profession of journalist, so it is very important not only to keep these professionals in the editorial staff, but also to accompany them, to keep them in the news. comfortable in these environments. so that they can bring their experiences and share their diversity in journalistic production, "said Santana.
The project included creating a formula to measure newsroom progress towards diversity throughout the program.
"As the creation of metrics is a trend around the world, newsrooms need to look to data to create more accurate and fair strategies for journalism to become more representative," Santana said.
The lack of diversity in media content also contributes to the polarizing narrative experienced by Latin American societies, as it encourages the formation of radical ideas and hate speech against specific groups.
"The media shouldn't come in to play this game of polarization. As virtually everyone in this book says: including diversity in the journalistic narrative and in the newsrooms is part of the solution, "said González.
Mariana Alvarado added that it is time for journalism to reach all population groups without exception. And that will only happen through a vision of diversity and the creation of more niche media.
"We are all married to the idea that journalism is a public service and our duty as journalists is to reach absolutely everyone," she said. "In this sense, I think it is important that we consider inclusion and diversity, not as a fad, but as something that is here to stay and that must be the start of a new era in our society. great information work. "
Prof Alves thanked the NAHJ for providing space for the display of the eBook and acknowledged the institution's historic struggle for diversity in American media.
"I believe that in Latin America we have a lot to learn and draw inspiration from this long experience that journalists have here in the United States for their struggles for civil rights, for diversity, equity and inclusion. , these three words which are so big and so important and which become a great cry for social justice in the world ", declared the professor.
The ebook, which is available in Spanish and can be downloaded for free from JournalismCourses.org, is the culmination of an initiative to support diversity in journalism in Latin America promoted by the Knight Center for Journalism in the Americas , with the support of the Google News Initiative.
The first step of the initiative was the MOOC (massive, open, online course) "Diversity in News and Newsrooms", taught by Peruvian journalist Marco Avilés in January 2021. This MOOC brought together 1,921 students from 50 countries. This is now available as a self-directed course on JournalismCourses.org.
The second stop was the 1st Latin American Conference on Diversity in Journalism, a virtual event held on March 26-27 of the same year, to which 2,120 people registered. The conference can be viewed on YouTube.