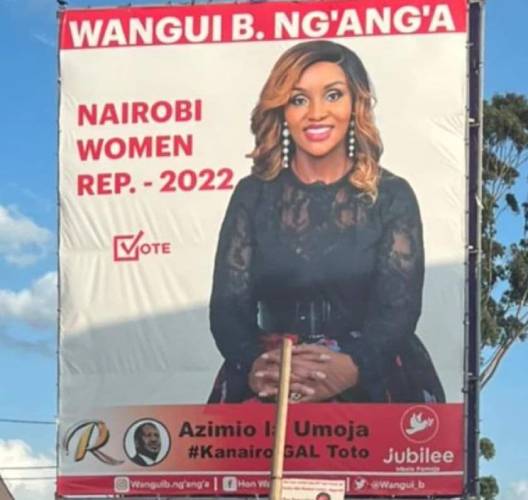 City motorist distracted by politician's sexy billboard lands his car in a ditch
A motorist in the city recently lost control of his car and swerved off the road before landing in a ditch after being distracted by the billboard of aspiring Nairobi Women's Representative Wangui. B. Ng'ang'a.
The incident which happened on Mbagathi Way drew crowds of onlookers causing a traffic jam along the busy road. According to eyewitnesses, the middle-aged man claimed the accident was the result of the erected billboard.
"He claimed Wangui's billboard distracted his concentration and before he knew it the car had rolled away." Fortunately, he suffered only minor injuries and was treated at the adjacent Mbagathi way hospital.
Contacted for comment, B. Ng'ang'a said he was shocked and pledged to cover all medical costs incurred by the motorist.
"I'm shocked, but I urge drivers to be extra careful on the roads. "My billboards are for campaign purposes only. I appreciate the attention but let's not miss the point. All I want is to serve the people of Nairobi with great leadership," the Jubilee candidate said.
This is not the first incident where men have been caught ogling the politician. A male fan openly professed his admiration for her through social media.
"I don't know who she is but looks like someone deserving of my vote," he wrote in part.
She shrugs it off though: "We are all beautiful and should always be grateful. That people listen to our agenda as the Jubilee Party and the policies that concern us."
An ally of Azimio presidential candidate Raila Odinga, Wangui will seek the legislative post for the second time after running unsuccessfully in 2017. Other candidates include incumbent Esther Pasariss and Senator Millicent Omanga.