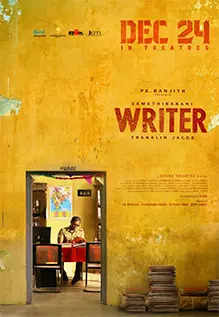 An honest attempt that could have been improved
Rookie director Franklin Jacob takes a while to take audiences into his world, but when he does, Writer really takes off. The film is not about a perfect cop who tackles injustice from the start, but about an imperfect human being who is also trapped in this vicious system.
It's one of the movies that talks about the need for a union for police officers and how the protagonist fights for it. First, the film gives us an overview of the police department and the politics associated with each case. In the very first scene Thangaraj (Samuthirakani), as a writer, tries to unfairly close a small case, with the intention of reducing the crime rate in his police station. On the other hand, he is also asking for the formation of a police union in court. As someone with their own moral poise, he finds himself trapped in an illegal custody case that tears him away from guilt.
A doctoral student, Devakumar (Hari Krishnan), a sociology student at Madras University, is caught in the wind when he searches for information for his research. With a deputy caste commissioner pulling the strings to defend himself in an old case, Devakumar is arrested. With Thangaraj's intervention, things get complicated and what really happens to Devakumar and the police officers involved forms the climax.
Writer has his intentions in the right place, but he also deviates from them in places, not allowing us to have an immersive experience. The film talks about several problems in the police service, but it only touches on these points superficially without having a thorough examination of a particular problem.
For example, we get a flashback involving Ineya, which is a major downside to the narrative. However, the scene in which her character Saranya, a police trainee, rides a horse to make a strong statement against casteism and hierarchy is laudable. Jacob's writing is powerful in part. However, the movie had a lot of possibilities to be better but it falls flat in some places. The writing in the second half could have been better.
Samuthirakani's performance is the major strength of the film. The scene in which he shows remorse is brilliant and definitely moving. Antony, who plays Raja, an ex-convict who works at the police station in the police department, has done a wonderful job. His one-liners work to a great extent and elicit laughter. Maheswari, who plays Samuthirakani's wife in the film, did a neat job. Don't forget, Hari Krishnan's performance as an innocent student who gets caught in a mess is something to watch out for. He did exceptionally well.
The portrayal of atrocities by the police in films is not new to us, yet this film gives us a different perspective by making us meet both the good and the bad police officers in the department. Composer Govind Vasantha deserves special mention because his music helps uplift the script. The other technicalities could have been better, especially when dealing with a grainy narrative like this.
The writer definitely has honest intentions and is observable for the subject he has dealt with.