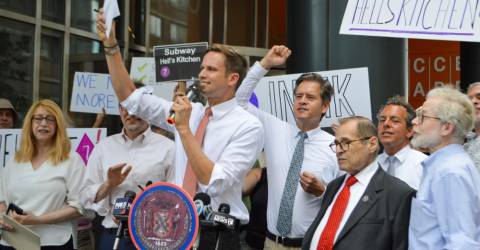 A new metro station? 'Sexy', Manhattan politicians say
Some of council member Erik Bottcher's Hell's Kitchen voters walk not five or 10, but 15 or 20 minutes to the nearest subway station. That could change if the MTA returns to the lost, but far from forgotten, project to build a Flushing Line station at West 41st Street and Tenth Avenue.
"The time has come — the time was right ten years ago," Bottcher said at a Tuesday afternoon rally at the intersection over which the station would be built. He was joined by politicians including Congressman Jerrold Nadler, Manhattan Borough President Mark Levine, State Senator Brad Hoylman and Assemblymen Dick Gottfried and Linda Rosenthal.
In 2005, an extension of Line 7 to Hudson Yards was to include the additional stop. But ten years later, only the Hudson Yards subway station was operational; the West 41st Street stop was "closed at the last minute", as Bottcher put it, to save money. Now it's included in the MTA's 2025-2044 20-Year Needs Assessment, a roadmap of key city projects that could get the go-ahead.
Supporters say New Yorkers are ready for it now. "Infrastructure is sexy again," Rosenthal said.
"Bait and Change"
Before the half-baked completion of the Hudson Yards expansion project, local and express trains from Flushing only went west to Times Square, with the other endpoint at Roosevelt Avenue in Queens. . Construction reached $2.4 billion, The New York Times reported in 2015.
"It was bait and switch," Hoylman said. "We got one station, but we didn't get the second we were promised."
An advantage came from the construction under the feet of New Yorkers: an opportunity for the project to be resumed, quickly. "A lot of the engineering work was done in a way that allowed for two stops," Levine told Chelsea News. "It does not start from zero"
But the city has been slow to act, despite pleas from residents and politicians. "I've been sounding the alarm about the importance of building this station for nearly two decades," Nadler said.
It's time to "do it"
Now, a recent changing of the guard could bode well for a different landscape in Hell's Kitchen. "We have a new governor, a new mayor, we have a new head of the MTA," Gottfried said, before emphasizing that it is high time to "do it."
Local politicians claim this is the ideal location for an additional metro station. The neighborhood adjacent to the Hudson River already has many businesses, tourist attractions and a high density of residents. "We've seen explosive population growth on the West Side," Bottcher said. "Tens of thousands of residents have moved into this neighborhood."
Aside from the Hudson Yards stop, no subway station currently exists further west in Hell's Kitchen than Stop 7 at Eighth Avenue, as Bottcher drew attention to Tuesday. A West 41st Street and Tenth Avenue stop would change that.
However, being on the MTA's 20-year needs assessment project list does not guarantee that the desired West 41st Street subway stop will be built anytime soon. The 2025-2044 needs assessment list is used to develop the 2025-2029 capital program, which allocates concrete funding. The evaluation process "will consider benefits associated with proposed projects, such as potential ridership, travel time, contributions to network capacity, resilience and equity," according to the MTA.
A future for public transport
An initiative on the horizon could intersect that equation, local politicians suggested on Tuesday. Congestion pricing, which is expected to come into effect at the end of 2023, will generate funds that could be spent on MTA projects, such as building an additional 7-line subway station.
And that will require a shift in focus toward public transit, according to Levine. "Congestion pricing must also be accompanied by improvements in transit options," he said, "to make it easier for people to choose to leave the car at home."
Standing at the noisy Hell's Kitchen intersection, he estimated that thousands of car trips could be avoided if a subway station was built under the concrete. In environmental terms, fewer cars would mean less pollution, according to Rosenthal.
For resident Yadira Jimenez, whose walk to the nearest existing metro station is much longer than desirable, the problem is simple. "Time is money," she said. And the lack of a nearby stop seems to be costing locals more than they can afford.